Auction ServicesThrough our Fox-Integrated Auction Services (FIAS) affiliate, we provide auction services for sellers of surplus, distressed, under, and non-performing assets. FIAS' principals have over 75 years experience in accelerated dispositions of over $1 Billion of real estate and machinery/equipment world wide. Along with its internal expertise, FIAS has a national network of strategic relationships with premier auction and real estate brokerage firms. By leveraging its resources with those of strategic partners, FIAS can field the perfect team, combining its global experience with local expertise to provide unparalleled service and results. We are so confident in our ability to maximize the value of your assets that we will guarantee the results*.For sellers faced with balance sheet issues, burdensome carrying costs, prospects of declining markets, and similar challenges, quickly recovering value from assets is critical.  Auctions provide the most cost and time efficient way to recover value and create liquidity from single properties to large loan portfolios. When carrying costs are high, liquidity is critical, or markets are in flux, auctions offer the following advantages over conventional sales programs:
SPEED, EFFICIENCY & ECONOMY

Intense marketing leads to sales within weeks (not years), resulting in lower costs and less overhead. Even entire portfolios can be liquidated in as little as 120 days

SHIFTING OF COSTS

Buyers pay for many traditional seller costs and expenses

URGENCY / MOTIVATION

With the certainty that a property will sell, buyers must submit a bid or lose out on the opportunity to buy – they are forced to get off the fence and come to the table

FINALITY / CERTAINTY

All sales are "as is, where is," and "final" – there are

no conditions or contingencies

. All due diligence is completed before the bidding starts.

BETTER NET RESULTS

By drastically reducing the sales period which lowers carrying costs and shifting commissions, fees and closing costs to buyers, yields improve for sellers.

INTENSE EXPOSURE

Bidders are brought together through intensely focused, targeted promotions using all logical media.

FREEZING THE MARKET

Auctions freeze the market by putting competing deals on hold while buyers await the auction results. Once an auction is announced, a property is in the spotlight and will receive more buyer attention than competing assets.
Absolute auctions - where assets are sold to the highest bidder regardless of price – provide singular advantages to sellers and their representatives.  Those advantages include higher sales prices and greater assurance that assets will be sold by a specific date. The prospect of being able to buy an asset far below market value is an overwhelming lure to bidders at absolute auctions. More people attend and participate in absolute auctions than any other sales programs.  The possibility of a "steal" draws crowds. In reality, with more bidders, there is more active and aggressive bidding which results in higher sales values (in many cases the heat of competition drives pricing far above anticipated values).  
Absolute Guaranty Program™ - While there are distinct advantages, some sellers consider absolute auctions to be risky. They fear their assets will sell to "bottom feeders" for pennies on the dollar. Sellers  can hedge the risks of an absolute auction through our Absolute Guaranty Program™.  The Program works as follows: we negotiate a minimum return that the seller is guaranteed to receive for each asset sold at an FIAS absolute auction. If the high bid at auction is not sufficient to pay that return, we either make up the difference or acquire the asset for a price that provides the guaranteed return. In exchange for guarantying that return, we earn a fee based on a percentage of the guaranteed return amount, and become entitled to a percentage of sales proceeds above the guaranteed amount.  Through the Program, sellers have the best of both worlds: the opportunity to maximize returns through the an absolute auction, and protection against low-ball bidding.
Auction Industry – More and more sellers are turning to auctions to maximize the sales value of their assets.  Over the last 6 years the gross sales revenue of real estate sold at auction has grown over 40% to $58.6 billion.  As the need to sell real estate increases so will the number of real estate auctions.  No longer are auctions the methodology of last resort, for the savvy, they are the methodology of first resort.  Call us now and let us customize a disposition strategy to maximize the sales value of your assets.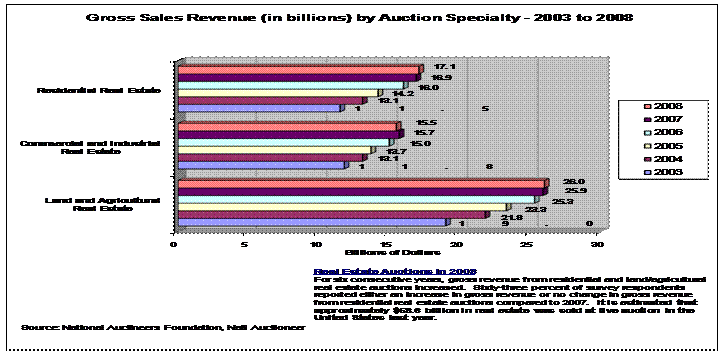 * Guarantees are provided by Integrated Holdings Corporation (IHC) and are subject to certain restrictions including but not limited to due diligence and acceptance of predetermined minimum return.  Guarantees are available only as part of a unique advertising and disposition program offered exclusively by Fox-Integrated Asset Services and may not be available for all assets. Guarantees are offered for additional fees and profit sharing. Please contact us for further details and eligibility.